A typical day
6:00 am: Most of the kids wake up and start their day cleaning the house and washing the plates and clothes.
7:00 am: Finished with everything they start their 3km long journey from Masese to the city center of Jinja. On their way to CRO they pass by "classic" spots to look for food and other useful things (e.g. Jinja Central Market). Those that are picking scrap often take longer arriving at CRO since they normally also pass by the industrial area trying to fill their bags with whatever could later be sold.
8:30 am: Step-by-step all children arrive at CRO and the morning devotion starts.
9:30 am: The devotion has ended and the children start cleaning their bathrooms and washing themselves as well as their clothes. Although some prefer to stay on the swings, in the end, all kids are bathed.
11:00 am: After the children have finished bathing they get some time to play (if they are fast) before the warm breakfast is served for them. This normally contains of a cup of porridge, sometimes complemented by some snacks.
11:30 am: Having finished the porridge, everybody enters the classroom where Dorothy, the teacher of CRO, teaches the kids the most important basics.
1:00 pm: The schoolkids arrive from school and soon Rebecca, CRO's cook, will be serving all of the children their lunch (usually containing rice or posho with beans).
1:30 pm: Of course personal hygiene is not missing after lunch. The project's nurse Margaret hands out the personally labeled toothbrushes and toothpaste.
2:00 pm: The afternoon program mainly includes outdoot activities such as football, netball, frisbee and others. Class sessions are rather not common in the afternoon except due to special occasions such as exams. From time to time interested children also get the opportunity to watch a movie in the library.
4:30 pm: The majority of children starts their journey back home. Just as in the morning on their way they will pass by the classic hotspots for food and scrap while others use the time upto darkness to work at charcoal places to get some small money.
7:00 pm: It is getting dark in Jinja and while most of the half-time children have reached Masese, the full-timers start looking out for a safe sleeping-place.
11:00 pm – 3:00 am: Life in Masese never rests – this term is not only appropriate for metropolises, but also for Masese. This is (besides domestic violence) the unfortunate reason why many children do not get sleep upto now.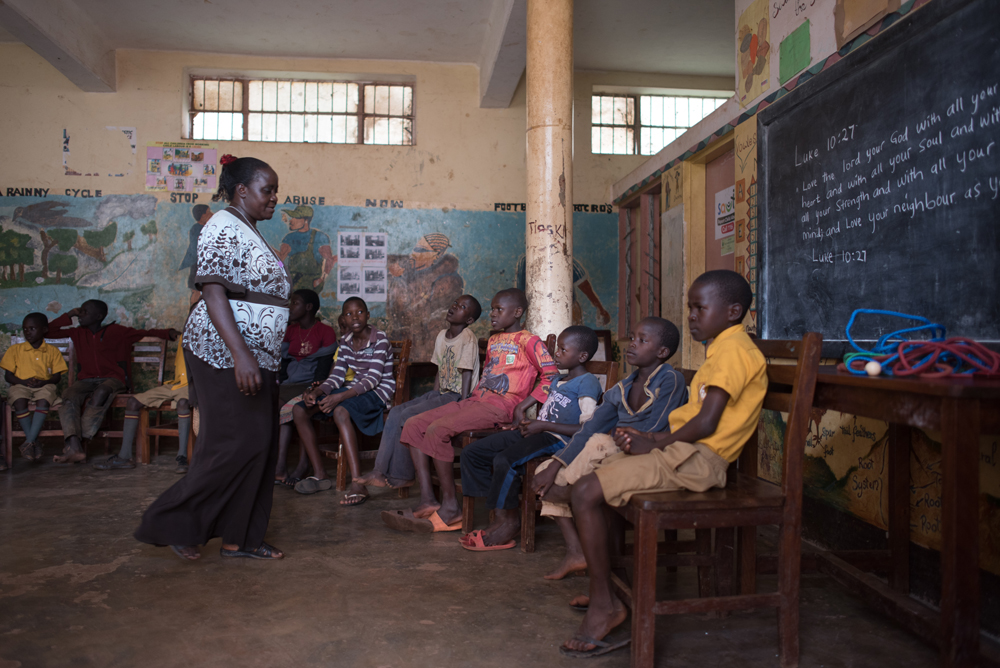 Masese – a place for/of children
Most of the kids in CRO stay in Masese; a suburban of Jinja mainly inhabited by Karamajong (people from Karamoja, a poverty-stricken area in the northeast of Uganda). Trying to look for work in the industrial area many parents arrived with their children and settled in Masese, 3 km away from Jinja's city center.
This "less developed area" consists of 3 different parts: Masese Landing Site (a small fishermen's village at Lake Victoria), Danida and Masese 3, from where most of the kids come. Mainly working in this part, CRO is facing the typical problems: alcoholism, lack of hygiene, domestic violence and a high unemployment rate. Therefore, SLB wants to actively get involved in cooperation with CRO to start projects offering the highly talented and educated people of Masese an opportunity to better their living conditions.
A widely spread practice in Masese are youths renting their own small room together. This can be seen as boon and bane likewise: on the one hand the youths grow up early and learn to take responsibility, but on the other hand it sometimes leads youths to drop out of school since they need to look for rent and food.
In general, Masese is representing very well what makes Uganda be the youngest country (according to the average age) in the world: you find a great number of children! This might strengthen the cliched picture of less developed areas that are overwhelmed by children, but it does also result in an effect one should not underestimate: Masese, besides all problems hosted, represents the joy of life and ease seen in the children!
For sure, life is not only dirty, evil and mournful but rather cheerful and diverse!